Reflective Supervision Groups
---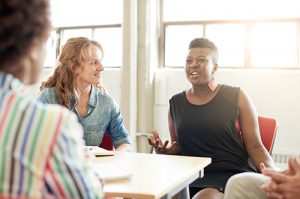 The Adelphi University Institute for Parenting is announcing the launch of a Reflective Supervision Group for multidisciplinary practitioners who are providing Infant and Early Childhood Mental Health (I-ECMH) services for families with very young children (from pregnancy through five years of age) and mental health consultation to infant and early childhood programs. The supervision will meet the requirement for the new NYS-AIMH Endorsement.
What is Reflective Supervision?
"Reflective Supervision is a partnership that nurtures a process of remembering, reviewing, and thinking out loud about each child, the people who surround that child, and what happens, or does not, between them. Reflective supervision enhances vision, clarifying what is seen and even what is see-able." (Shahmoon-Shanok, 2006).
Reflective Supervision is an act of shared mindfulness that helps Infant and early childhood mental health practitioners understand experiences with greater complexity, tolerate a range of emotions (their own and their clients') and to remain emotionally available even in the face of uncertainty. It is an application of Jeree Pawl's concept that "How you are is as important as what you do." Reflective Supervision is a relationship for learning within which an intermediate space is created between didactic instruction and infant mental health practice so that by reflecting "on" the work the clinician is better prepared to reflect "in" the work (Foley, 2009).
The Reflective Supervision process guides attention towards the clinician's inner experience and the contemplation of thoughts and feelings. Its purpose is to examine, deepen, and refine the ability for the clinical practitioner to be fully present in mind and emotions, develop insight into both the self and the supervisee and to solve the problem. Reflective supervision helps to deepen the clinician's capacity for self-reflection in order to better empathize with the young child or parent's perspective and respond more effectively—which is essential to the work, particularly the ways in which these are shaped in interaction with others (Foley, 2010; Geller and Foley, 2009; Shahmoon-Shanok, 2006 Steinberg and Kramer, 2010).
This weekly supervision group will meet on Monday evenings for two hours. The first 30 minutes will be devoted to a discussion of the week's related reading. The last hour and 30 minutes will be reflective supervision process. Participants will be expected to present case material related to their current practice/clinical work.
---
October 2, 2017–May 14, 2018 (groups are renewable)
Day: Monday Evenings
Time: 6:30 p.m.–8:30 p.m.
Place: Adelphi University Manhattan Center, 75 Varick Street, 2nd Floor, New York, NY 10013
Dates:
October 2, 9, 16, 23, 30, 2017

November 2, 13, 27, 2017  

December 4, 11, 2017  

January 8, 15, 22, 29, 2018

February 5, 12, 29, 2018

March 5, 19, 26, 2018

April 9, 16, 23, 30, 2018

May 7, 14, 2018
Fee: $1,100
If you are interested in this program please call Marcy Safyer at 516.237.8513 or email msafyer@adelphi.edu.
If you have an interest in a joining a Reflective Supervision group on Long Island and New York City is not an option for you, please email msafyer@adelphi.edu.
---
Instructors/Supervisors:
Judith Solomon, Ph.D., has presented numerous training workshops, seminars, and lectures at the local, national and international levels. She is a licensed clinical psychologist and infant mental health specialist and a well-known attachment researcher. Dr. Solomon specializes in integrating caregiving and attachment in research and infant mental health psychotherapy, the use of research instruments in assessment and treatment planning, and training and supervision of infant mental health clinicians. Her publications include attachment theory's seminal volume on attachment disorganization, Attachment Disorganization, (1999, Guilford Press, 1999) and its follow-up, Disorganized Attachment and Caregiving (2011, Guilford Press).
Marcy Safyer, Ph.D., LCSW-R, IMH-E® (IV-C), is a NYS-AIMH endorsed Infant Mental Health Specialist and the Director of the Adelphi University Institute for Parenting. As a clinician with more than 30 years of experience, she has worked with adults and very young children with a focus on young and developing families and has extensive training in working with very young children who have experienced trauma. Dr. Safyer has supervised, taught and trained clinical social workers and other multidisciplinary professionals on topics such as psychopathology, attachment theory, and the impact of trauma on the development of young children. In addition, her research and clinical interests are in the development of effective intervention programs for at-risk young children and their parents such as those in foster care or the criminal justice system. She is also the founding president of the New York State Association of Infant Mental Health.