M.S. in Infant Mental Health and Developmental Practice
Specialized IMH-DP training for graduate students in Related Services disciplines.
The U.S. Department of Education recently awarded Adelphi's Institute for Parenting the Related Services Personnel Preparation Grant for Early Intervention for Preschool Special Needs (CPSE). This grant-funded program spans five years to include five cohorts of graduate students.
Each program year, we accept a cohort of up to eight graduate candidates to participate in full-time training at NO COST.
About the Program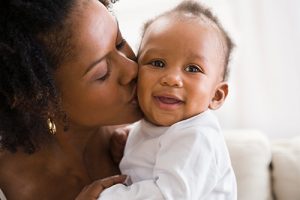 The Adelphi University Infant Mental Health and Developmental Practice (IMH-DP) Training Program is a 15-month federally-funded training program for students interested in attending or currently attending graduate school for Social Work, Mental Health Counseling, Speech-Language Pathology and School Psychology. Students will be trained to provide Infant Mental Health services to high-need, at-risk birth through five-year-old children with social emotional challenges, developmental disabilities, or other special needs and their families. The program includes lectures, courses, clinically based learning experiences and integrative seminars that broaden candidates' learning.
» What Is Infant Mental Health?     » What Is Infant Mental Health and Developmental Practice?
Conceptual Framework, Philosophy and Innovative Attributes
IMH-DP training adheres to the scholar-practitioner model, in which candidates are immersed in rigorous study of conceptual and scientific foundations of the field, both historic and current. There will be an emphasis on ability to translate conceptual, empirical, evidence-based and best practice principles into clinical practice with young children who have disabilities, as well as their families.
A cross-disciplinary, cross-systems multicultural perspective informs the program. The curriculum spans a continuum of services that includes Promotion, Prevention and Intervention. Specifically, IMH-DP training prepares candidates to provide mental health or mental health informed related services to 0-5 year olds and their parents through Part C and B services, and to serve young children whose needs interface with the child welfare system (CAPTA), especially those with high-need social-emotional challenges and other special needs.
The IMH-DP program will accomplish these aims through immersing candidates in structured, systematic, sequenced and graded course work with rigorous instruction in theory, and supervised experience in evidence-based and clinically supported best-practice models of intervention and service delivery. The IMH-DP curriculum is an additional year of study embedded in between existing degree programs. All candidates representing Social Work, Mental Health Counseling, School Psychology and Speech-Language Pathology will meet together in many forums during their training. Content instruction will be complemented by a coordinated program of learning experiences including: interdisciplinary case conferences/integrative seminars; reflective supervision; infant, toddler and preschool observations; and a one-year supervised clinical internship with 0-5 year olds and caregivers.
Internship sites may be in early intervention, special needs preschools, integrated settings, medical homes in county hospital pediatric clinics or child welfare focused/clinical settings. Each internship provides a range of experiences (e.g., consultation, home visiting).
The program will include attendance at an interdisciplinary lecture series with visiting luminaries in the field of Infant Mental Health. IMH-DP candidates will meet the experts at a lunch or dinner.
IMH-DP Training Program Structure
The IMH-DP training program is a collaboration between the Institute for Parenting through University College and Adelphi graduate programs of Social Work, Mental Health Counseling, Speech-Language Pathology and School Psychology (see program paths). This training will prepare candidates for positions working with 0-5 year olds and for Endorsement eligibility in IMH-DP through the New York State Association of Infant Mental Health.
IMH-DP Training Program Overview & Requirements:
15 month training program (e.g., May 2017 to August 2018, detailed course schedule below)

Participate in a two-day orientation prior to beginning the program in May (dates are provided upon acceptance)

Sign a Pre-Scholarship Agreement outlining the two-year service obligation.

Candidates will receive academic advisement, support and mentoring from the program manager throughout the duration of the program.

Candidates must complete 18 courses and internship with a grade of B or better.

A practicum experience at Adelphi's Alice Brown Early Learning Center, focusing on developing observation, interaction and reflective skills.

A one-year internship (e.g., September 2017 to August 2018)

Complete a Cumulative Accomplishment Portfolio (CAP).

Weekly individual reflective supervision

Weekly  group reflective supervision beginning in the Fall semester

Monthly interdisciplinary case conferences with faculty from (SLP, SW, SPSYCH, MHC and visiting faculty from OT, PT, Developmental Pediatrics, Nursing, Child Nutrition, Early Childhood Education).

Complete an Integrative Project Presentation.

Sign an Exit Certification.

Continued bi-monthly reflective supervision group to deepen and synthesize skills during the year following completion of IMH-DP.
All IMH-DP candidates will add one year to their graduation date but in return will enter the workforce with an enhanced range of practice and increased career opportunities for working with young children and their parents.
PROGRAM PATHS
All candidates begin the program in the summer semester (i.e., May 2017). There are multiple opportunities for candidates to participate in the IMH-DP Training Program.
There are two options for candidates attending Social Work, Speech-Language Pathology or Mental Health Counseling to participate in the IMH-DP Training Program.
These are: 
Before entering their primary masters program
OR
After completing their first (foundation) year of their program
» See Paths for the Master of Social Work
» See Paths for the M.S. in Communication Disorders: Speech-Language Pathology
» See Paths for the Master of Arts in Mental Health Counseling
There are two options for candidates attending School Psychology to participate in IMH-DP. These are:
After their first (foundation) year

After their second year
For School Psychology, candidates will temporarily leave their primary program to matriculate into the 15-month IMH-DP training program. They will then matriculate back into their primary program for their advanced year in September, and graduate the following May.
» See Program Paths for the Master of Arts in School Psychology
All graduates of IMH-DP will be license-eligible in their degree program and having training as Infant Mental Health specialists.
APPLICATION REQUIREMENTS
Requirements are different depending on when you enter the program.
» See Application Requirements for Current Adelphi Students
» See Application Requirements for Incoming Adelphi Students
---
For more information , please contact:
Nicole Trotter, LMSW
Project Manager
Adelphi University
Institute for Parenting
Linen Hall, LL Room 11B
p – 516.237.8511
e – ntrotter@adelphi.edu